By Michael Curry
Known throughout the nation, especially the world of jazz, Jae Sinnett has been a fixture and leader for almost three decades. He is a drummer, composer, leader, teacher and mentor. And, of course, he is the voice of jazz on WHRV Public Radio. His Sinnett in Session and R&B Chronicles programs, both syndicated, have set a standard on radio that is unequalled and has led to numerous awards and accolades.
Sinnett has himself appeared with (or backed up as they say in the business) scores of legends including Freddie Hubbard, Joe Henderson, Branford Marsalis, Chuck Mangione and Charlie Byrd. He has released 15 albums to date, two of which reached the top of the charts. Now, the irrepressible musician adds another feather to his cap — that of innovative impresario. 
Master drummer Jae Sinnett has put together a series of straight-up jazz concerts that is not to be missed. Any lover of great jazz will be suitably impressed by the artists participating in this exciting new series which will be presented in the intimate surroundings of the historic American Theatre in the Phoebus section of Hampton on Saturday, July 13 and on Saturday, July 20. Curtain time 8pm.
Appearing in the concerts will be such greats as Queen Esther Marrow, trumpeter Randy Brecker, pianists Cyrus Chestnut and Justin Kauflin as well as Jae Sinnett's own trio and his Zero to 60 Quartet.
In a recent interview, Sinnett explained with great enthusiasm the concept and the goals of the new series which is being presented this first time as an experiment.
"It's kind of like putting your toes in the water to test things out," says Sinnett. 
With some generous backing and sponsorships, the concerts are sure to take off and will hopefully become an ongoing fixture in the regional jazz and performing arts scene.
"First and foremost," Jae explains, "we want to present world-class talent for the community in a classy venue."  The American Theatre has hosted a diverse and eclectic collection of jazz concerts ever since it was refurbished and reopened in 2000. In fact, several of the artists Jae has selected for his inaugural series have played the American before. "In putting the series in place, we had to consider all sorts of factors including who would work well in the 400-seat venue and, of course, more importantly who would work well together," Sinnett said. It also helps immensely that all of the artists chosen have been longtime friends and collaborators with Jae and all of them enthusiastically embraced the concept and agreed to participate.
Jazz as an art form, is a constantly evolving phenomenon. While it is generally acknowledged to be the first truly American art form, jazz — much like the original music of the baroque and classical periods — is based on improvisation and collaboration. Did you know that such giants of the music world as Johann Sebastian Bach or Antonio Vivaldi (among many others)very often did not write out the entire musical score for the instruments. Rather, they set down the melody and the orchestral outlines and then the individual musicians/soloists would quite literally fill in the blanks by improvising – or basically making up the music (within certain guidelines of course) as it went along. The same is true of the jazz that came out of New Orleans and other centers of the burgeoning art form in the early decades of the 20th century. When such legends and innovators in the classical world such as Maurice Ravel embraced the nascent art form, jazz took off, especially in the nightclubs of Paris and other major European cities.
Back then, jazz was mainly a coming together of just two or three musicians in a trio or quartet format — a format that Jae is emulating in the Phoebus series this summer, especially with the coup of bringing vocalist Queen Esther Marrow back to the stage in a setting with piano, bass and drums. Serious lovers of jazz will relish this idea which harks back to the golden days of Ella Fitzgerald and Sarah Vaughan.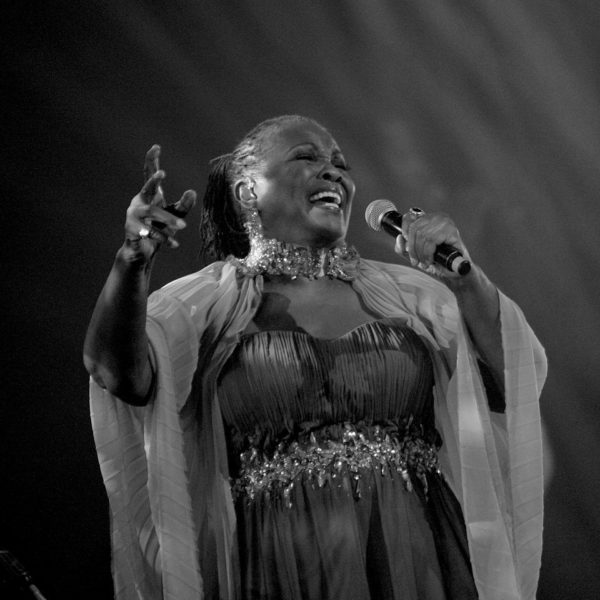 QUEEN ESTHER MARROW
It has been a long time since regional audiences heard Queen Esther in concert  so her appearance will be a definite highlight. A Newport News native, Queen Esther was discovered at the tender age of 22 by none other than the legendary Duke Ellington. It was the Duke that launched and nurtured her extraordinary career that took them around the world. She became a superstar in Europe giving sold out concerts in all of the major capitals. Along with Ellington and Harry Belafonte and a host of others, Queen Esther (and yes, she was born with that name) went on to star in Broadway shows, on television and in film. She has appeared with such giants as Dr. Martin Luther King, Bob Dylan, Ray Charles, Ella Fitzgerald (another Newport News native), Lena Horne and countless others. Queen Esther has always been a strong advocate and ambassador with a solid and meaningful message of hope.
Queen Esther highlights the July 20 concert  which will be opened by Sinnett's Zero to 60 Quartet (Sinnett on drums, Ralph Bowen on saxophone, Allen Farnham on piano and bassist Terry Burrell).
OTHER PERFORMERS
The Saturday, July 13 concert will open with up-and-coming superstar, pianist Justin Kauflin. A native of Virginia Beach, Kauflin now tours the world under the tutelage and mentorship of the legendary Quincy Jones. But it was right here that Justin got his start — at the Governors School for the Arts and under the guidance of Jae Sinnett. Kauflin began his early studies as a classical musician but by the ripe old age of 15, was performing professionally as a jazz pianist —- most notably with the Jae Sinnett Trio. The legendary Clark Terry took Justin under his wing and his impressive career took off and continues to grow in leaps and bounds. Justin is featured in the award winning documentary "Keep on Keepin' On" for which he also composed the score. His latest release, Coming Home came out in 2018 and instantly became a classic. Quincy Jones lovingly calls Justin "simply a beautiful cat..you can feel beauty in every note he plays" while Clark Terry described him as "a monster on the piano..one of the greatest people I know."
Pianist Cyrus Chesnutt was hailed as "the greatest jazz pianist of his generation" by Time Magazine. In great demand throughout the world, Chestnut started playing piano at the age of 7. By the age of nine, he was studying at the prestigious Peabody Institute and later earned his degrees  from the Berklee School of Music where he won major awards including the Qunicy Jones and Oscar Peterson scholarships. He went on to tour with such contemporary giants as Wynton Marsalis, Terrence Blanchard and the Betty Carter Trio. Chestnut himself recalls that it was Betty Carter who urged him to "take chances and play things you have never heard". Other stars with whom he has often collaborated include Bette Midler, Freddy Cole, Freddie Hubbard, Dizzy Gillespie and opera diva Kathleen Battle. A regular guest at the world's leading jazz festivals, Chestnut also makes frequent appearances as guest pianist with the Lincoln Center Jazz Orchestra, the Dizzy Gillespie All Star Big Band and the Carnegie Hall Jazz Orchestra.
Trumpeter Randy Brecker has helped shaped the sounds of jazz, R&B and indeed rock and roll for more than four decades. He has been featured in recordings with some of the greatest names in music – from Frank Sinatra to Steely Dan, James Taylor and Frank Zappa. In his early career, he appeared with the Clark Terry Big Bad Band and the Duke Pearson Big Band. He then joined Art Blakey's Jazz Messengers and later joined the iconic jazz rock band Blood Sweat and Tears. He has won an impressive five Grammy Awards including one for his seminal Randy in Brazil which won the Grammy for Best Contemporary Jazz Album and features a full complement of the greatest Brazilian musicians. He and his brother, sax player Michael performing as The Brecker Brothers Band – a band which had enormous influence and impact on the musical world. The band released a total of six albums, garnering a total of seven Grammy nominations. 
THE FORMAT OF THE PHOEBUS CONCERTS
The July 13 concert will open with a set by the Justin Kauflin Trio to be followed by a set with Cyrus Chestnut and trio and then the quartet featuring Randy Brecker and Justin Kauflin.
The July 20 concert opens with Jae Sinnett's Zero to 60 Quartet and will conclude with a set by the legendary Queen Esther Marrow.
An exciting and groundbreaking series of world-class jazz at the American Theatre presented by Jae Sinnett…don't miss it and help support real and pure jazz in our community. With your support, the series should become a pillar of the Hampton Road's musical landscape.
As the legendary Bing Crosby sang in the classic motion picture High Society: "Now you has jazz, jazz, jazz."
Tickets are available ( hurry they are selling fast) at Ticketmaster or the American Theatre box office: 757-722-2787